How can we make the most of company's advertising budget through a better User Experience?

Companies spend a significant portion of their budget to increase their presence on social media, meaning to get higher quality impacts. However, audiences are fast to recognize commercial content, making them less effective.
Context


As the last IronHack project, we worked with a real client to set the groundwork for the future Magenttü and create a product to showcase investors in order to get the initial seed investment.
Client


Magnettü is a B2B SaaS that provides a tool for employees and managers to generate content to post on their social media in order to develop their own personal brand. In return, the company gets marketing leads.



Project Scope


Design of the MVP to present to possible investors, consisting of:
· Website landing page
· Login/sign up pages
· User's dashboard
· Manager's dashboard



My Role


User Research, Information Arquitecture, Wireframing, Prototyping, Interaction Design, Experience Design, Branding.
Team


Jan Grau, Nash Sofan, Michel i Crespo



Platforms


Desktop



Year


2022



Duration


15 days

Tags
Hypotheses-based Design, Information Architecture, Problem Statement, Userflows, Wireframing, Prototyping, User Stories, Design Systems, Design Interactions, Competitor Analysis, Qualitative User, Interviews, Data Analysis, Customer Profiles, Branding.

---
Problem
Businesses that are struggling to lower cost per leads due to the loss of efficiency from social media channels, need a way to increase lead conversions and build brand awareness from within the business.
Hypothesis

Creating an easy, seamless tool to empower employees to play a more active role in social media would generate more lead conversions at a lower cost. Not only will it help decrease marketing expenses, but also help employees build their personal brands and be leaders in the industry.

---
User Research
Although we were provided with user research findings by the client (Magnettü), we conducted new research based on interviews in order to identify a user-focused problem statement that would allow us to craft a MVP design that meets the user's needs.
Interviews

We began our primary research by creating an interview guide then started conducting 12 interviews with participants aged between 26-41 who are currently in the workforce and are potential users. Participants were a mix of brand managers and employees in multiple industries so we can understand the needs and wants from each use case. We then did affinity mapping and feature prioritization methods to help us ideate.
4 in 6
Managers complain about social media ads expenses and want lucrative alternatives.
85%
Of businesses want employees to share company news because it is more cost efficient than paid ads and is percieved trustworthy.
79%
Of employees love to share content but find it time consuming and difficult to create content.
---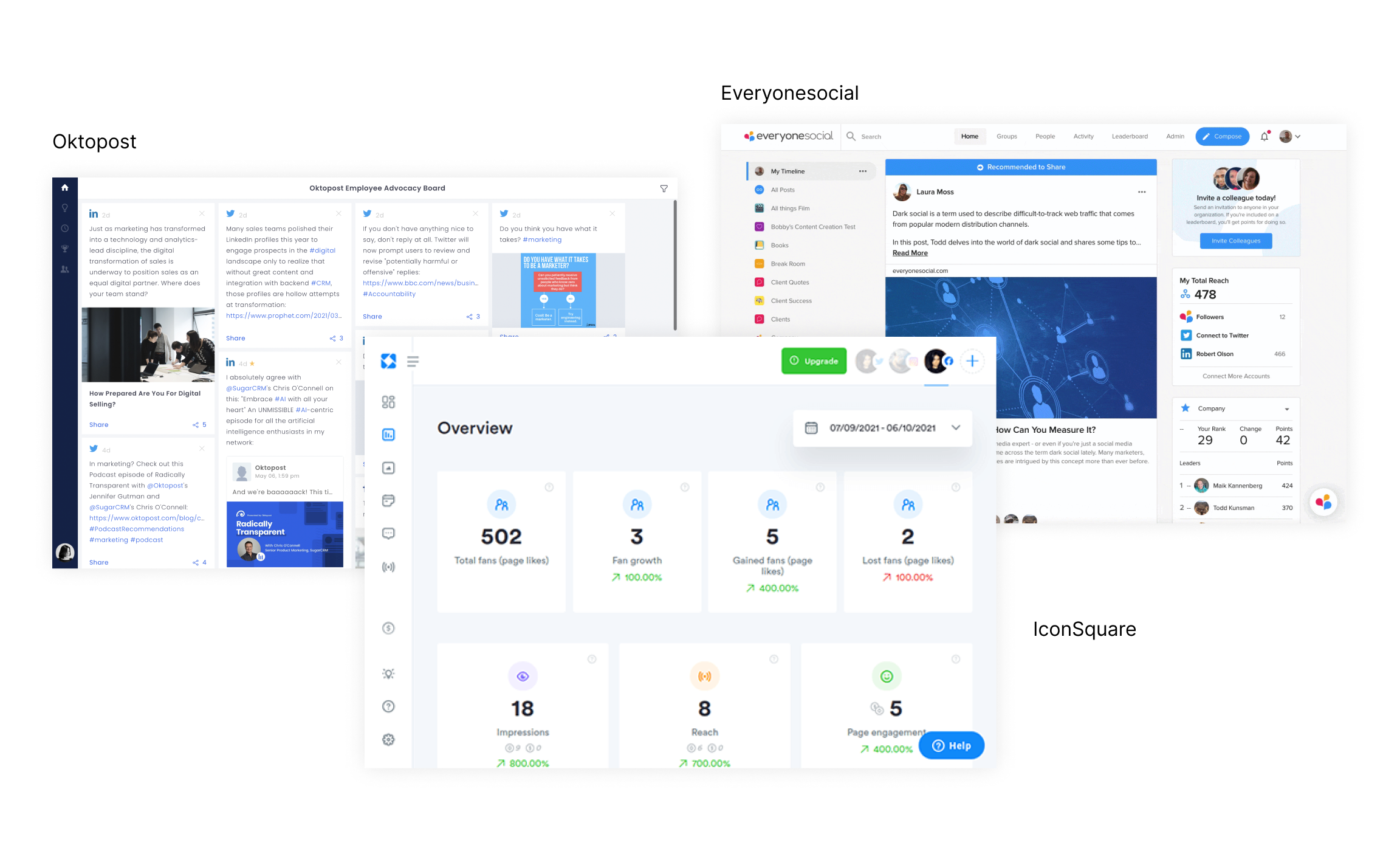 Benchmarking, Sketch and Architecture

After doing a market research of related products we drew conclusions on how the information in Magnettü should be organized to be intuitive, easy to navigate and enjoyable.
---
User Personas
Creating two user personas based on the two main types of users (manager and employee) will help us design with a user-centric point of view.
Nicolas Coorey

41, Brand Manager at Engel and Volkers.
Madrid, Spain.



BIO


Nicolas, father of three, lives with his family in the outskirts of Madrid. He truly believes in this quote "People trust people, not companies". Excited for the post covid opportunities at his company.
Frustrations


· Campaigns are becoming expensive and less effective.
· Hard time educating employees about all the news that is happening internally.
· Cannot track and measure the success of content created by employees.
Goals


· Decrease marketing costs of the company.
· Motivate employees to advocate for the company.
· Track all social media posts made using measurable KPI's.
Alexa der Hipp

30, Real State Agent at Engel and Volkers.
Madrid, Spain



BIO


Alex is an outgoing, social, ambitious millennial. He just moved to Madrid from Amsterdam to start a new chapter in his career and has barely enough time to explore and work.
Frustrations


· Feels undervalued inside the company and not able to stand out.
· Difficulty to stay up with all the industry trends and news.
· Has a hard time writing and managing social media content effectively.
Goals


· Become an employee advocate and build his personal brand.
· Stand out from others in the industry by sharing sophisticated and smart content.
Scenarios and User Flows

We design two different user flows: the manager's flow and the employee flow. These are focused on two types of users who will use a different version of the app.
Manager shares content with a group
The employee schedules the publication of a post
Employer reviews calendar and post statistics
---
Branding

Although the client had already a brand color, logo, font style and an existing website, we redefine it while maintaining the brand essence.

Starting by slightly refining the logo and the brand color to give it a more polished look, This would then be used to create the whole product's color palette.

User testing, iterations and design changes.
By conducting more than 20 usability tests with potential users we came across plenty of design faults and patterns that needed to be redesigned to meet user's intuitions, familiarity, and wants.
Here are 4 of the many we have faced.
Introduced sorting and filtering tools!


Ability to schedule posts and edit them using the schedule feature.


Redesigned de cards to be compatible to all devices and meet users intuitions.


Redesign of the cards so that interactivity would not depend on the hover option and thus make them compatible with all devices.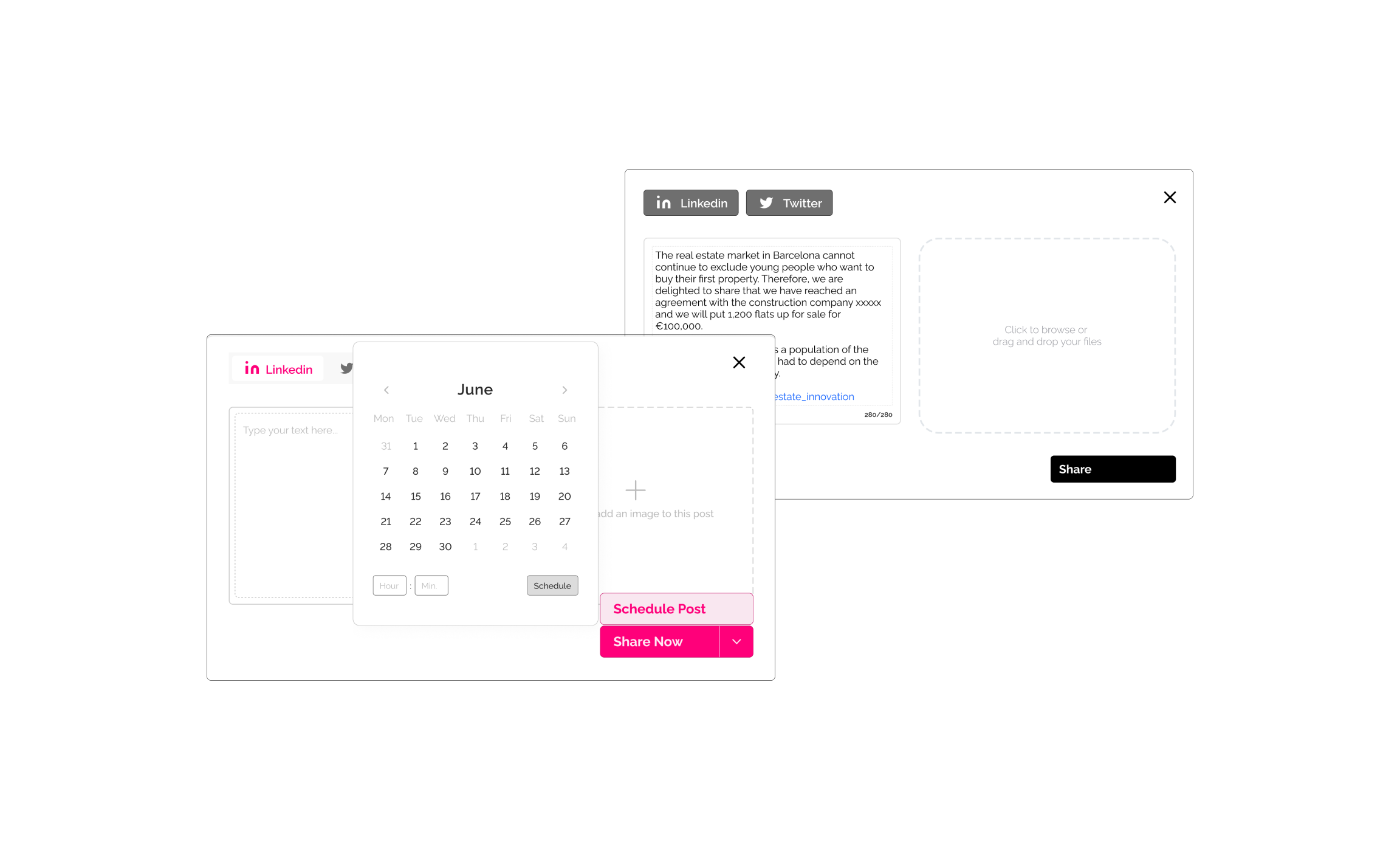 ---
What could be done next?
Mobile Device
Based on research, 70% of the employees (secondary users) use mobile applications for their social media. Hence, if we were to tackle this project again, I would create the MVP on mobile devices first.

Content Cards
Although the content board was a great idea backed by competition validation and usability tests, some users still view it as overwhelming. Therefore, find an alternative way to re-organize the cards by conducting even more research and testing.

---