How can the amount of time spent looking through different dealers be reduced?

Small bike shops confront a difficult chore that can take up to two days and prevent them from attending to other tasks in the store when they need to search among all of their dealers for a certain part.
Context


As an exercise in the IronHack UX/UI Bootcamp, we had to identify a need in a sector of our choice and develop a digital tool as a solution.



Client


A group of small bike stores in Barcelona: Mestre ciclista, My Beautifull Parking, Espai Bici, Bicicletas Castells, 02Town.



Project Scope


· Research to improve efficiency within bicycle stores.
· Ideate and prototype a digital product that offers a value solution.



My Role


User Interview, Journey Mapping, Sketchin, Wireframing, Screen Flow, Visual Desig, Interaction Design, Prototyping.
Team


Michel I Crespo



Platforms
Desktop



Year


2022



Duration


9 days



Tags


Service Design, Interviews, Information Architecture, Problem Statement, Userflows, Wireframing, Prototyping, User Stories, Design Interactions.
---
Problem
The need for maintenance services has increased dramatically as a result of the dramatic increase in bicycle usage. Small bicycle shops in particular need to better serve the demands of their consumers as a result of this.
---
Key Drivers
I have concentrated my ideas on the following crucial areas because various parties are involved in this process and each of them has a unique method for managing their B2B platforms, arranging their inventories, and giving their products names.
Speed
Our first priority is to make the search process clear and straightforward so that it doesn't involve any extra work, as our major objective is to reduce the amount of time spent.

Personalisation
It is crucial that each business has the option to purchase goods from the distributors it has contracted with.

Technology
Exploring the available technology choices that can produce an effective result is important to make sure that the solution does not need extra effort from all parties involved.

Smart Suggestions
It would be interesting if our platform could act as a standardization guide for all retailers because there is no established standard for organizing and maintaining inventories. Technologically speaking, the search would be simpler if this were the case.
How does a tiny bicycle shop's typical day-to-day operation go?
To obtain a deeper understanding of the inner workings of a bike shop and to observe and interview five small businesses over the course of two working days in Barcelona.

---
Qualitative and Quantitative Data

I was able to understand the managers' and mechanics' needs by interviewing with them face-to-face as they went about their work in the shop. This kind of Task Analysis allowed me to observe and learn more about their needs beyond just what they said.

Survey Findings


The majority of the retailers, all but one, reported that they had trouble procuring components from the dealers and were unsure of how to fix the issue.
They both agreed that a tool that made it simpler to find a particular component would be very beneficial for their business.
To gather their thoughts on the matter, I was able to get in touch with two distributors who had completed a tiny custionary I had prepared for them.
Results

The results were frightening—a large portion of the issue is related to a problem with worldwide distribution—and it seemed like there wasn't much to do. However, both were in support of attempting to automate the order taking processes, because they frequently have to manage the matter personally by calls negotiations.
---
The main objectives in the development of the tool.
Initial user research identified a number of choices, like comparing costs and delivery times or the search for parts that can replace the required product. For the MVP, however, I thought about the organizational opportunities and chose to concentrate on a few crucial areas, such as streamlining the user experience when looking for a specific part and nomenclature recommendations for in-stock parts, to drive unification and fulfill product, business, and user objectives.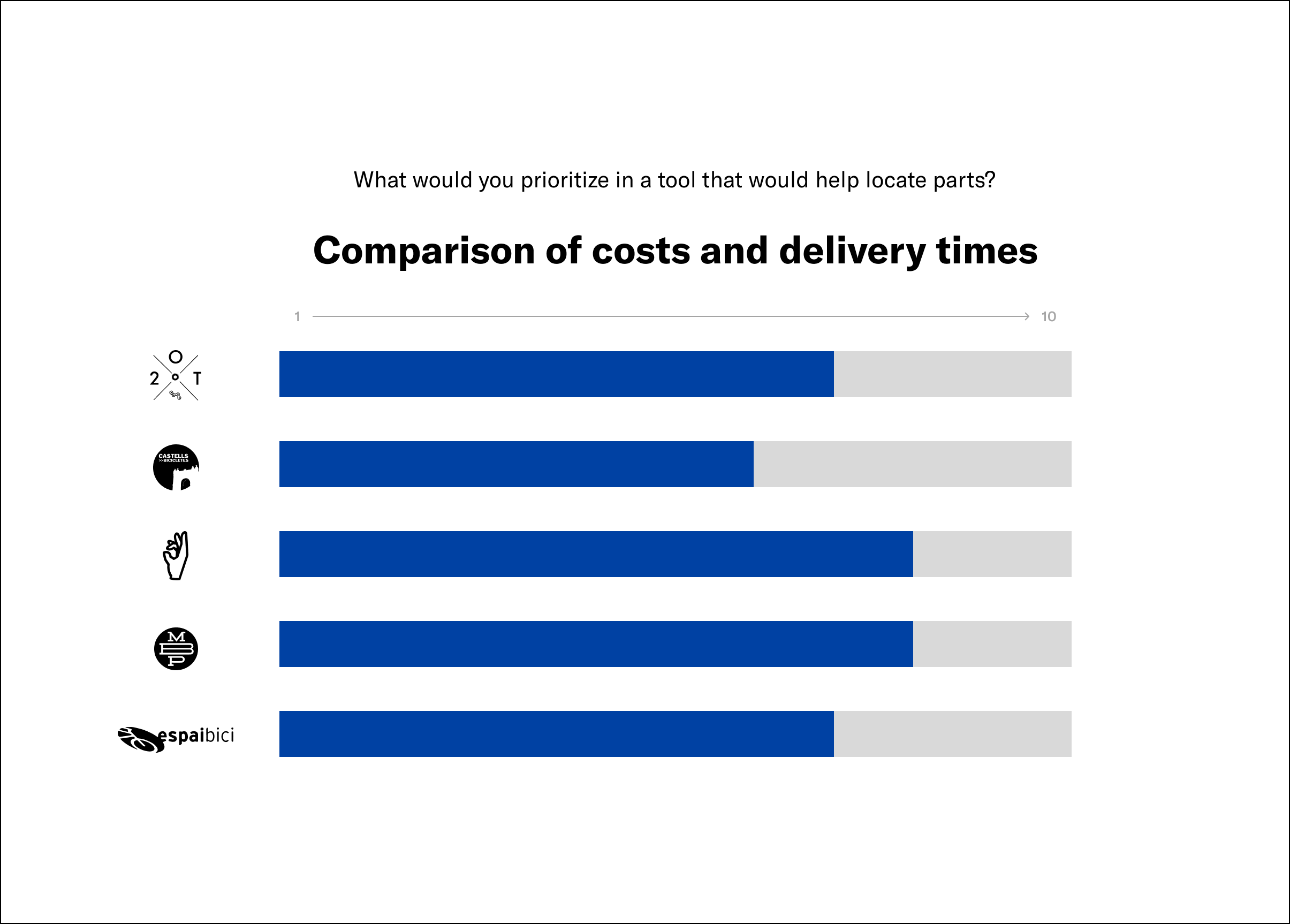 Meeting the needs
I reinforced the data I had obtained so far by evaluating the existing digital solutions on the market that could meet the needs before starting to design the digital tool. After examining websites like Autozone, Google Shopping, Amazon, Pricecheck, and YahooShopping, we came to the conclusion that Google Shopping offered the most user-friendly interface with a strong, quick, and thorough service that makes it simple for users to search for and make purchases.
In order for this concept to be successful, we would need access to the databases of numerous merchants, which would be the biggest challenge. To get around that, we may ask them on behalf of our clients, who are also their clients.
I refined the concept with research findings that were consistent with our objectives and using hand sketches went through several iterations with three of the six retailers that were interviewed. I also suggested an updated, more straightforward information architecture that emphasized facilitating quick and simple component discovery.
I iterated on the concept using hand sketches and research findings that were consistent with the aims before creating low-fidelity wireframes, and prototypes to test with three of the six merchants that were interviewed.

I also suggested an updated, more straightforward information architecture that emphasized facilitating quick and simple component discovery.
Just because it's a tool, it doesn´t have to ve bland
Although simplicity of use and visual clarity the SnapGear's foundational elements, it is key to give the product a distinct identity in order to stand out from other current product, connect with its audience, and develop a personality.
Since the environment in which SnapGear is used are workshops and warehouses, it is appropriate to build on a clean environment of industrial and brutalist forms, with strong contrasts.


Blue, white and black are intended to convey confidence, reliability and strength.


It's components can work well together and, at the same time, in the future could render well on various device resolutions.


For achieving vertical rhythm, I used an 8pt grid system (fonts set at 4pt, UI set at 8pt).
All in synch, it's easier
In addition to the parts-finder's primary functionality, SnapGear also performs a second, slightly more ad hoc role that pretends to help to unify the databases already in use by ensuring that they all use the same nomenclatures and descriptions.

---